My name is Oleksandr Petrenko (or just "Sasha"). I share here my thoughts and interesting things.
Personal
I am Ukrainian, born in Odesa, a lovely city on the shores of the Black Sea. As far as I am aware, some of my ancestors were always around, living either in Odesa soon after its foundation or in other parts of Ukraine; while the rest arrived from elsewhere. To get a better understanding of own background, I made a DNA test, and my single nucleotide variants say the following: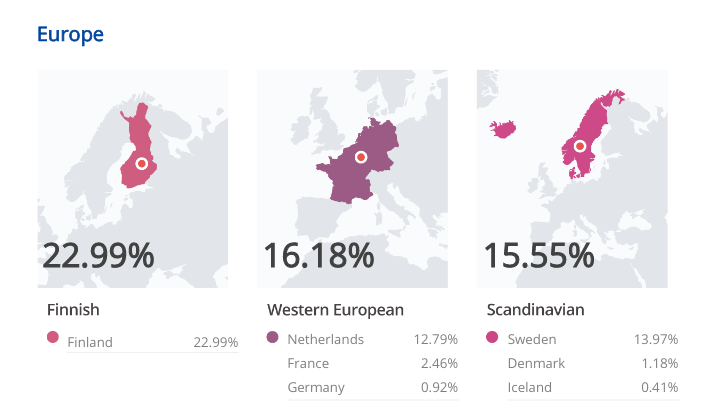 All hail consumer genomics!
The following categories are applicable: father, husband, geek, altruist.
I consider these things important:
Technological progress;
Sustainable development;
Human rights;
Federated internet;
Critical mindset and debates.
Unlike the following, which I don't recognize so:
Social hierarchy;
Beliefs;
Social rituals;
Formalities in communications.
My hobbies are: learning something new; playing around with electronics and DYI; history and linguistics. I participated actively in Parliamentary debates and, with my teammate, scored decent places in National-wide competitions in Ukraine. Used to be a dedicated gamer, but then I took an arrow in the knee.
Professional
In 2016, I received my M.D. from Odesa National Medical University. Around my third year, I realized that science could be just as enjoyable as clinics, so I started spending my free time aside from coursework in research labs and contributing to ongoing projects.
Parallel to my postgraduate studies, I worked in a reproductive health center, rising from a junior embryologist in an IVF unit to deputy director. I was in charge of business intelligence, global collaborations, innovations, and genetic programs such as preimplantation embryo testing there.
My postgraduate training in general practice provided me with the opportunity to gain various clinical experiences; I was fortunate to commit the final part of it in a medical genetics center. It enabled me to develop a strong empathy for patients with genetic conditions while also defining my scientific interests.
Since 2019, I've been working on a PhD project in Prof. Thomas Reiberger's laboratory in Vienna. My primary research interests are cell-cell and cell-matrix interactions in advanced chronic liver disease, which I investigate using human biosamples, omics, and systems biology.
My CV, which includes a detailed overview of the career milestones, can be found here: PDF.
Open for contacts
I am trying to be in touch with students, participate in mentorship programs, and contribute to various projects pro bono. If you think our scope matches, feel free to reach out!